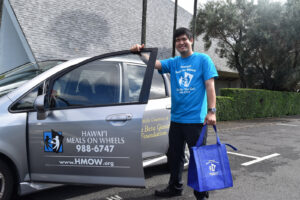 Hawai'i Meals on Wheels (HMoW) is dedicated to helping frail elders and individuals with disabilities preserve their independence at home by providing hot, nutritious meals and regular personal contact.
Part-time driver (Oahu)
Compensation: $12.00 – $14.00 per hour
Employment type: part-time
Non-profit organization
Primary duties and workload: Deliver meals to homebound clients when volunteers are not available. Train volunteers on route orientation and meal delivery system. Assess location, safety, and parking issues that volunteers may encounter. Inform program staff of any changes in client condition, including absence from home. Assist in daily verification of route coverage and inform volunteers of delivery changes. Assist in placement of clients on routes based on location. Maintain appearance and condition of agency vehicles.
Education/experience requirements: High school graduate, 2 years driving experience and a clean driver's abstract, no criminal conviction for theft, abuse, neglect or assault. Must have team player attitude and work well with others. M-F and Benefits Available.
---
Social Service Assistant I
Compensation: $15.00 to $17.00 per hour
Primary Responsibilities: Employee must promote a comprehensive approach to client support and engagement and serve as a liaison between agency, home settings and community resources.
Essential Functions:
PROGRAM DUTIES:
Evaluate existing, new and prospective clients based on their needs, desires and limitations- this includes home visits and phone calls.
Help determine what type of aide clients and public inquiries may need
Assist in coordinating community resources for clients and public inquiries
Help clients complete paperwork to apply for programs
Maintain constant communication with clients while addressing their concerns.
Enter new and updated information in database; assist in program reporting as needed.
Communicating updates to client, client family, and program staff to provide comprehensive services.
Answering the phone as needed to assist in ensuring adequate route coverage and accurate meal delivery, coordinating with volunteers and paid drivers to locate clients who are not home to receive their delivery, and answering client and family needs, volunteer, and public inquiries.
Post daily route and client change of information in database.
Entering new and updated client and volunteer information in client database, and all necessary communication mediums (including but not limited to- MOS, SERVTRACKER, sending emails etc.).
Conducts route orientation for volunteer and on-call drivers as needed.
DELIVERY OF MEALS or Housing Distribution Assistance
Delivering meals to clients as needed
If driver uses company vehicle, maintains appearance and condition of agency vehicles, which includes but is not limited to filling gas tank, cleaning vehicles, and ensuring that needed servicing is done. Keeps Program Coordinator and appropriate staff advised regarding potential vehicle problems with HMoW vehicles.
Maintains agency vehicles' coolers/ trays in clean, presentable condition.
Routinely reviews new routes and updates routes.
Presents appearance that represents HMoW including appropriate HMoW shirt and badge.
Download entire description by clicking here
---