Donations to Hawai'i Meals on Wheels, Inc. are tax deductible. We are a private, not-for-profit 501c(3) organization that relies on private donations to help us in our work of providing hot meals to the homebound.
Donations may be made by check or credit card to Hawaii Meals on Wheels, P. O. Box 61194, Honolulu, HI 96839-1194. Feel free to contact us at 988-6747 should you have any questions or suggestions.

If your company participates in the ALOHA UNITED WAY campaign – Your Aloha United Way (AUW) contribution can benefit HMoW. We are Agency #70190.

If you are a FEDERAL EMPLOYEE – Your Combined Federal Campaign (CFC) contribution can benefit HMoW. We are a participating agency in the CFC and welcome your donation! We are Agency #48796.

Starting September, donate up to $249 to HMOW at any Foodland, Sack N Save and Western Union Foundation. All will match your donation! Agency #77345.

The Amazon Smile Foundation will donate 0.5% of the purchase price from your eligible Amazon purchases. Just select Hawaii Meals on Wheels as the charity of choice.

To donate your vehicle, contact Kokua in Kind at 834-6603 or www.kokuainkind.com and designate Hawaii Meals on Wheels as the beneficiary.

As a seller or a buyer, choose us as the charity of choice and HMOW will get a portion of the proceeds. To see which items/sellers are designating HMOW check out HMOW's eBay for Charity page.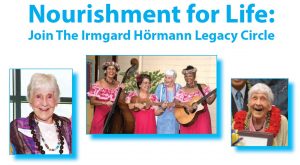 Click here to learn more about The Irmgard Hörmann Legacy Circle.
Gift Donations
Make a Gift Donation – You can honor someone special in your life through a donation to HMoW. A gift card acknowledging your donation will be sent to celebrate special events (birthdays, Christmas) or in remembrance (memorial). Please indicate honoree's name and address, and the occasion, in your correspondence.
Community Donations
Is your school, church, club, company, scout troop or other organization interested in a community service project? Get everyone involved and organize a fundraiser or golf tournament to benefit Hawaii Meals on Wheels.
Corporate Donations
Corporate donations are always welcome, and companies can assist in many ways – with monetary and in-kind donations, Corporate Matching Gifts programs, and table sponsorships at our Annual Gala. We are truly grateful for the generous hearts of our corporate community!
Bottom Line.
For every $5 you donate, Hawai'i Meals on Wheels is able to provide a hot, nutritious meal for a homebound person.